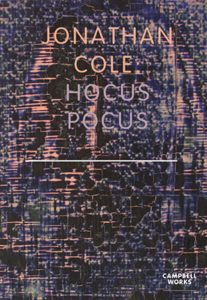 Showing Jon's work  and launching catalogue five years later. At Campbell Works.  Big thanks to Neil and Harriet for their support, hard work and great venue.
Thursday 15th November, 6.00 – 9.00pm /  Opening reception
Saturday 1st December, 1.00 – 5.00 pm  /  An afternoon of films, readings, and discussion in Memoriam.
In 2007 Jonathan Cole was tragically killed in an accident in Cambodia at the age of 44. In his Hastings studio he left behind a large collection of paintings spanning more than twenty years. Five years on this celebratory exhibition will both introduce Cole's late works to a new audience, and serve as a timely opportunity for those familiar with his work to see it in a new context.
Hocus Pocus is curated by Rod Harman, a long standing friend, fellow painter and ex tutor, who witnessed Cole's work develop over some 25 years. The selected works, painted between 1999 and 2007, have an assurance, lightness of touch and maturity that show Cole as a highly significant painter of his generation. During this period we see Cole at his most prolific and most certain, and although, as with any artist who dies young there will always be the unanswerable question of what might have followed, it has been in preparing this exhibition that we are reminded how precious these works are and how much they need to be visible.